Oral hygiene professionals recommend, in addition to daily toothbrushing, to use mouthwash for daily use.
There are two types of mouthwash :
The mouthwash must come in addition to brushing teeth, but it is not yet a reflex for everyone!
There are two types of mouthwash :
–The medicated mouthwash that targets specific needs such as caries prevention, bad breath or wound healing after an operation … They are only used for a specified period of time and are prescribed by your doctor or dentist.
– The daily mouthwash, which is most often antibacterial, is used daily, after each brushing and without any risk. You can choose your mouthwash according to your needs.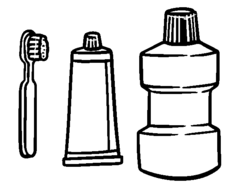 Integrated in the dispenser, our mouthwash is alcohol free and has a fresh mint flavor. It is used daily morning and evening to prolong the effectiveness of brushing by protecting caries and reducing plaque. It offers a feeling of cleanliness by refreshing the breath and keeps the whiteness of the teeth if it is used regularly.

  Strengthens and protects teeth radiance

   Keeping whiteness of teeth

  Extends brushing efficiency

    Taste fresh mint

  Can be used everyday
– aqua, glycerin, sorbitol, sodium benzoate, polysorbate 20, aroma, aloi barbadensis leaf juice, cetylpyridinium chloride, sodium fluoride, sodium saccharin, citric acid, limonene, potassium sorbate, CI 42090, CI 19140